Intelligent Workplace
A new era in work environment brings significant value to your business!
Intelligent office is a new, innovative and comprehensive concept where your company's printing environment, document working and data management will be made uninterrupted, cost-effective, secure, and productive with strategic planning, industry-leading tools, and expert management.
Practical device solutions, intelligent way of working and good care
This is what we are known for!
Intelligent Workplace experts are at your service
We take care of the functionality and cost-effectiveness of printing, the rationality and optimization of working methods, and their support and maintenance. We will create effective, continuous and productive document functions.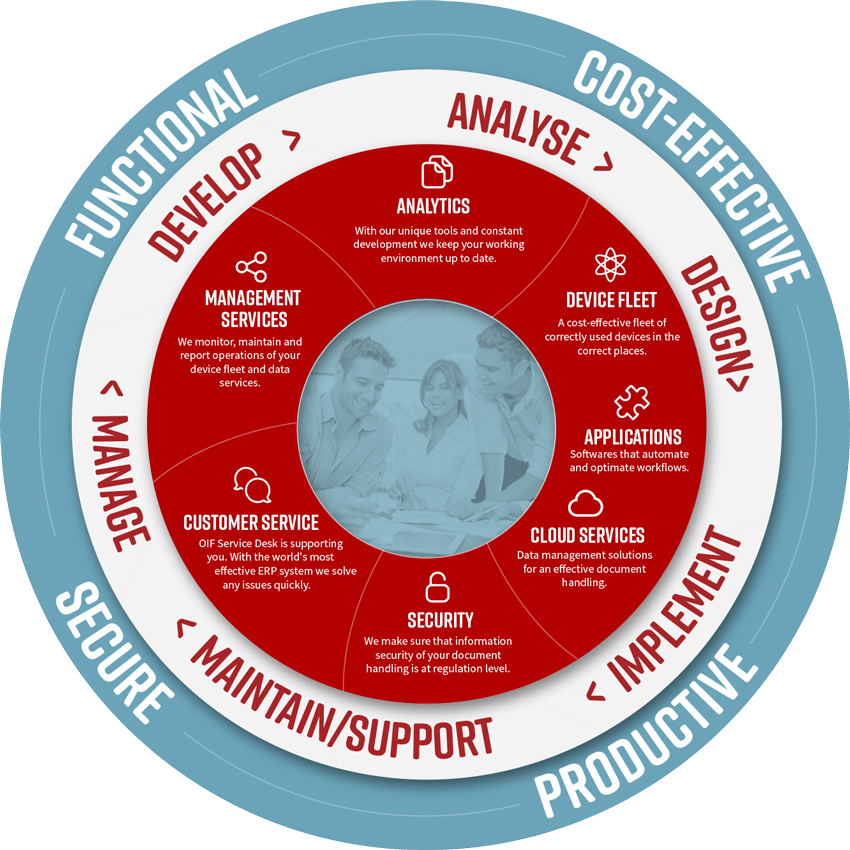 We give you significant added value with the industry's best knowledge, skills, tools and service attitude.
We cut costs

We increase productivity

We improve information security

We promote job satiscation

Unique analysis
Working methods, printing devices, information security

Full visibility into costs and bottlenecks

Data collection, analysis,

planning

and reporting

Further development according the plan

Guaranteed functionality
for
the work environment
Overall care and proficient service
Proactive monitoring
Maintenance and service
Timely suppl

y deliveries

Up-to-date monitoring and reporting

Consolidated invoicing

Flexible contract templates
Complementary services
Paper archive digitization service
Purchase

i

nvoice

p

rocessing

s

ervice
Electronic forms

Care service

Change

and deployment services
Temporary support services

Reputable OIF Service Desk
We solve issues quickly
One effectively working Finnish customer service

Fast response time and personal help immediately on the first contact

The w

orld's most

advanced

ERP system
Huge database and certified network of experts
Brand independent service platform with

intelligent

software

s

From multi-function devices to office assistants
Effective information flow and management
Document process review

Workflow optimization and automation

Intelligent scanning and integrations to different systems

Document and contents management and archiving

Applications to simplify operations

Mobile applications

Compatibility to the systems used by the company

Printer is a computer
We take care of the security of your printing environment
MFP is a cross

ing point

between digital and analog data

Solution for secure printing environment and document work

ing

Usage

monitoring, restrictions and controls

Get the most out of your devices
Optimated device fleet
Solution based on the analysis

Cost-saving designing

Management of printing devices and servers

Correctly

used devices in the correct places.

From unique analysis to outstanding service
Goal-oriented, constantly developing co-operating
Analy

sing

Design

ing

Implementing

Managing

Developing
Intelligent Workplace – new era of working
Interruption-Free, cost-effective, productive and secure working environment
Strategic partnership

Top experts and service attitude of the industry

Unique tools

Superior customer service
Office Innovations Finland Oy
Address / Innovation Center: 
Kappelitie 6 D 3.krs, 02200 Espoo
Tel: +358 9 4393 810
E-mail: info@oif.fi
Web: www.oif.fi
Key figures
Established in 2005

Subsidiary Office Innovations Vantaa Oy

Net sales 8 M €

Personnel 30

We manage more than 3000 devices in 200 cities

We manage more than 200 device models from six different manufacturers
Tommi Andersson
Partner
+358 50 567 2810
tommi.andersson@oif.fi
Lasse Talikka
Production Director
+358 50 550 1614
lasse.talikka@oif.fi